How Best in Class Organizations Develop and Implement a Best in Class Assessment System
Written by Ken Danderfer, Prevue Assessments Inc.
This is the second of two articles based on the study of the use of "Assessments in Talent Management" published by the Aberdeen Group in March 2009. In the first article we examined how and why Best in Class organizations ("Best Organizations") are increasing their use of assessments in all aspects of human resource management. This second article reviews the process followed by Best Organizations in developing and implementing a Best in Class assessment system.
Best Organizations first develop an assessment strategy or action plan to ensure their use of assessments is effective. The following issues or subjects should be considered in the development of an assessment strategy:


Identify the organization's weaknesses or pain points in talent acquisition and talent management procedures and then consider where and how assessments can address those pain points.
Define metrics to monitor the assessment strategy. Two/thirds of Best Organizations take the time to develop measures to monitor and manage their assessment strategy while only one/third of average or underperforming organizations do so. Developing solid metrics enables an organization to determine the effectiveness of its assessment action plan by comparing actual results to a baseline of key performance indicators.
Standardize procedures to assess job applicants and employees. This not only enables organizations to make objective hiring decisions, it also allows for more legally defensible hires that reduce the risk of litigation.
Benchmark top performers to identify and define what makes a top performer successful. Best Organizations are two to three times more likely to implement this procedure than their competitors because it provides a benchmark that identifies the required skills and behaviours for both job applicants and incumbents. The implementation of this procedure encourages improvement of both recruiting and development programs. At the same time it assists in gaining buy-in from supervisors, hiring managers and even IT personnel on the use of assessments by involving them in the process.
Identify employee prospects for promotion to key positions in the organization. Best Organizations are twice as likely to use assessments for succession planning as average or underperforming organizations. "Making educated promotion decisions not only reduces recruiting costs, it also improves morale and job satisfaction because it sends a message of fairness and equity".
Use assessments not just for pre-hire screening and selection decisions but also for post-hire development and training. Best Organizations develop a candidate assessment database to share with supervisors and managers on an on-going basis. The database allows the organization to maximize the benefit of their assessment programs by providing management continuous access to valuable employee job fit information that supports on-going coaching and development programs.


The Prevue Life Cycle graphic set out below exhibits the benefits of using assessments throughout an employee's entire career with the organization.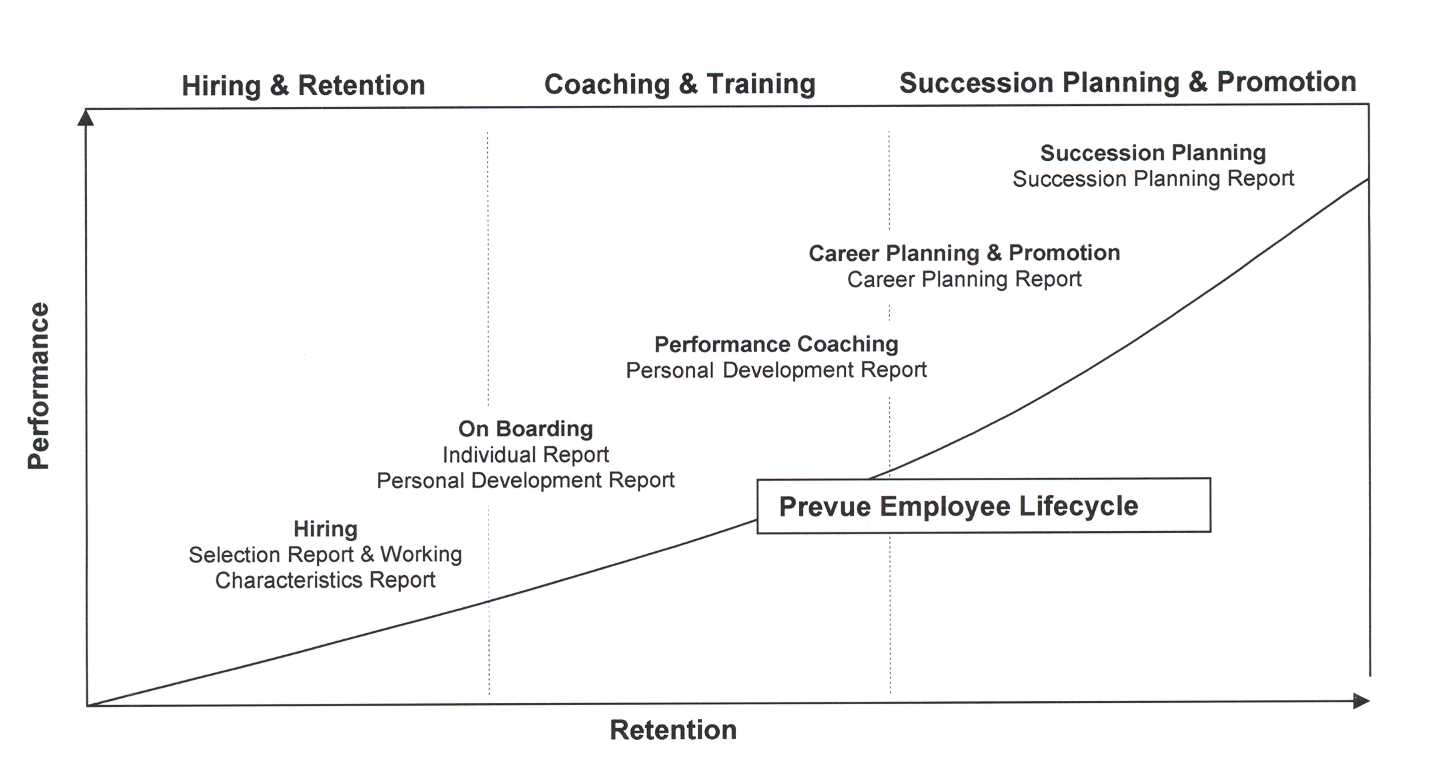 Best Organizations go on to support the implementation of their assessment strategy by:


Developing a standardized assessment process throughout the organization.
Gaining buy-in from all levels of the organization including leaders and executives, supervisors and hiring managers to ensure the results and data are used effectively in making both pre-hire and post-hire decisions.
Establishing a baseline or benchmark of skills, knowledge, abilities and behaviours required for job competency. Assessments are used to identify the gap between the candidate's profile and the benchmark of knowledge, skills, abilities and behaviours preferred for the position.
Developing profiles (benchmarks) of top performers in each position. Defining the profile of top talent gives an organization a target against which to assess its employees. The benchmarks can also be used to design development programs for individual employees.
Call HR-Fusion to help you to design and implement an assessment program for your organization to make your company a Best in Class organization with a Best in Class system.